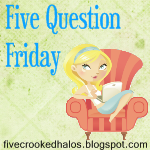 1.
What is one thing you miss the most about childhood?
the carefree days with no worries, no DRAMA
2. Are you still friends with your friends from high school?
3. Is there a catch phrase, cliche, or word that just drives you bonkers every time you hear it?
4. What is one thing that you think symbolizes America...besides "Old Glory"?
5. What are your 4

th

of July weekend plans?
Tonight we are going to see the fireworks in another town, Saturday we are cooking out and having a little swimming party, and Sunday my 3 children are going to spend the day with my mother and father, and my husband and I are going to a St. Louis Cardinals game(even though we are Cub fans, my hometown team is their opponites) and then we are coming home and spending the rest of the time with our children.